It's hard to believe that Boyz of the Dee-N have been objectifying
women
since catching our respective fathers reveling in the misogyny of

the Morton Downey Jr. Show

. So, Ladies of Pittsburgh, here is our ode to you. Thanks for the memories. We cherish them almost as much as our collection of PFAs.

Honorable Mention

PittGirl - Notwithstanding your classy silhouette (now found on T-shirts), we cannot in good conscience add you to our list because no photo exists.


10. Danielle Golden / Kristin Georgi
PRO: will do anything for money

CON: skin an extra-crispy lacquer from years of cheap tanning

We hardly knew ye,
Kristen Georgi
, before fat billionaire Joe Hardy found a new Fayette County concubine who could empty his bedpan and nod impassively while he blathers on about how jazz was never the same after Max Roach or some crap. Slutitude advantage:
Danielle Golden
. Congratulations, gals. We just added a good five seconds to your fifteen minutes.
9. Erin Ravenstahl
PRO: twinkly eyes, attractive smile
CON: married dumbest person in her high-school class

Erin has been hitched to child emperor and current mayor Lukie Ravenstahl since she was barely legal. Otherwise, this blonde bombshell with the priceless smile would just be another tart rejecting our suave maneuvers on the dance floor of Prive.
8. Leslie McCombs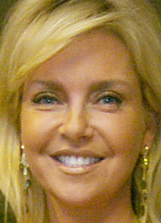 PRO: MILF, lobbyist
CON: willing to sleep with Ed Rendell to get Potato Patch fries named the state food
This
former Pittsburgh newztart
made for titillating gossip fodder in Harrisburg after a Republican senator announced he was hiring a private investigator to examine Mrs. McCombs relationship with Governor Soprano. Henry Kissinger used to say power was the ultimate aphrodisiac. This is what people must tell themselves right before they're forced to schtupp a bean bag.
7. Brandi Engel
PRO: young, fresh actress
CON: soon-to-be old, embittered ex-actress
Mt. Lebanon native
Brandi
had a bit role in a mindless miniseries on
Cock
Spike TV about villainous -- yet absolutely adorable -- sea monkeys who rob a bank in Pittsburgh ... or something. Doesn't matter: The point is Brandi's Hollywood star is sure to rise. That, or she gets a coke problem. We wish you well, Brandi!
6. Missy Peregrym
PRO: fully posable
CON: did the horizontal end-zone dance with
Steely McBeam
Ben Roethlisberger
Missy
is also a bit actress -- she played a gymnast in some movie with one of the Bridges (we're guessing it was Lloyd) -- but she made the Fab Ten because she dated the Stillers' QB. How's it feel to have Lloyd Bridges' sloppy seconds, Big Ben?
5. Sally Wiggin
PRO: Professional, widely respected journalist
CON: No discernible negatives
Before there was Sonni Abatta, there was Sally Wiggin. No Pittsburgh newzbabe is as good-natured and conversant as Sally. Unfortunately, she may be an android.
4. Julie Stimmel
PRO: college degree, willing to sleep with younger men
CON: sexually preys on vulnerable students, regards calculus as practical

Stimmel
, a former North Allegheny High School English teacher, gave extracurricular lessons to one of her students, with her mouth. Although the Darn News applauds her efforts with a gold star, even Mrs. Stimmel couldn't make
Last of the Mohicans
readable.
3. Becky Emmers
PRO: has a great rack
CON: has dated Yuri Demetris
The only thing that captivated us more than
2 Girls, 1 Cup
, was 2 Girls, 1 Video Blog. No offense meant to the lovely and talented Ashley DiParlo, but the other half of the Links N'@ tandem shares the same zeitgeist as the DN.
Becky Emmers
has a flawless hourglass figure that's made the DN boyz avid viewers of her train-wreck segment on WTAE's Internets site, Links N'@. We're especially fond of Becky because she seems the kind of party girl who just can't pass up $1 well drinks at Matrix. N'at.
2. Danika Wukich
PRO: wears sex-me boots
CON: spins the newz for Boy Mayor
Smart, sexy, and not afraid to wear stripper heels to a press conference.
Wukich
was the campaign spokescandy for Boy Mayor Ravenstahl. Danika, with an ass like that, you can spin us right round all day long.
1. Sonni Abatta
PRO: stunningly gorgeous, glanced toward us in college
CON: works for Old Media in an increasingly democratized, New Media age which stresses alternative information sources and audience engagement; won't flash her viewers
No list of the Burghosphere's hottest celebs would be complete without the Pride of CMU's humanities college,
Sonni Abatta
. After an all-night bender, we stumble into our cold, filthy apartment to warm the cackles of these lonely hearts with your sweet visage on KDKA's morning news. Your wine-red lips and come-hither eyes speak only to Team DN. They say, "By the order of Criminal Court of Allegheny County, you may not be within 1,500 feet of Ms. Abatta."