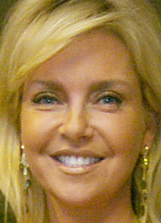 See,
somebody
in Pittsburgh likes Ed Rendell! Former Pittsburgh TV news reporter Leslie McCombs lobbied the state government to pass a $75 million film-industry tax credit that would benefit her client, Lionsgate.
But Leslie didn't register as a lobbyist. And state senator Jeff Piccola said that's a big no-no. Rather than refer the matter to the state lobbying commission, Piccola said he was going to hire a private investigator to look into the matter. And by matter he meant steamy affair between McCombs and Rendell.
McCombs did little to dispell the romance by
attacking Piccola
in yesterday's
Philadelphia Daily News
.
"Clearly, it is being suggested that I have an inappropriate relationship with the Governor. That suggestion is disgusting and insulting, and I am appalled that an elected public official can get away with such slanderous behavior," McCombs wrote in the e-mail. "It is deeply hurtful to me and my family."

Fair enough, pretty eyes. You can deny the allegation, but Harrisburg scuttlebutt says your a frequent dinner guest of the Guv. And here's a
photo
of the lovely couple sitting next to each other at a recent Pirates game (Rendell says there were five other people at the game, including McComb's son).
Piccola claims his private-dick isn't digging up dirt, just doing an honest day's work. John Baer, the astute political observer at the
People's Paper
says 'hogwash.' But Baer, like the Dee-N editors, can barely contain his glee at this emerging between-the-sheets peccadillo.